PDACookbook Lite
4.1.0
1200+ Free Recipes! Cookbook, Recipe Manager, Shopping List, Menu Planner, Beaming, Nutrition, HandyShopper/SplashShopper Export. Free Trial.
Last update
20 Mar. 2006
Licence
Free to try |

$14.99
OS Support
Mobile
Downloads
Total: 213 | Last week: 1
Ranking
#11 in Hobbies
Publisher
Wakefieldsoft, Llc
PDACookbook Lite Publisher's Description
PDACookbook Lite™ is your complete recipe and cook book software for Palm OS® handheld PDAs! Carry your recipes, menu planner, and shopping list with you for fast and convenient reference. Search for recipes by title, ingredient, category and more!
PC Users: You probably want the Plus version with PC companion software - check out PDACookbook Plus™.
PDACookbook has a simple and straightforward interface, and offers numerous useful features, including:
Shopping List - Add items from any recipe from the cookbook to the shopping list. Add misc items to the shopping list. Export to HandyShopper2. Remove items quickly as you purchase them.
1200+ Recipes - includes 1200+ free recipes! Search the list by category.
Menu Planner - add recipes to the menu planner for certain dates. View recipes from the Menu Planner with one tap.
Nutrition - enter nutritional items and information for each recipe.
Servings - Ingredients Scaling - Automatically scale ingredient quantities by simply changing the number of servings. Scale to any serving size, up or down.
Search - The versatile searching in PDACookbook allows you to search by title, category, ingredient, source, rating, or other text in the instructions. Or, you can search for any combination of those parameters!
Much More - Download the free trial to see all of the features!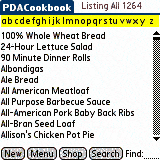 Includes 1200+ free recipes to get you started!
Easily tab between ingredients, directions and nutritional information!
Integrated Shopping List feature, quickly add recipe ingredients to the list, carry it to the store!
Menu Planner feature, plan future meals easily, assign recipes to meals and dates!

View the Getting Started Guide
Download our free trial version today!
See for yourself how easy it is to use, and try out all of the features. Then, after purchasing, we will send a registration code to enable the trial version to be fully functional. You won't have to install again after purchasing. It's that easy!
Look for Similar Items by Category
Feedback